Thursday, 17 April 2014
Docrafts
is a creativity magazine with lots of inspirational creative ideas inside, including home decor, scrabooking ideas, up-cycling and creative ideas for kids and so much more!
Aprils issue also came some cover gifts, such as 7 fathers day clear stamps, jewellery charms and foil topper sheets!
In the front of the magazine there's a really simple contents page, making it easy to flick through the magazine if you're looking for something specific.
The magazine itself is beautifully illustrated with pictures and instructions on how to make certain projects such as home made cards using the free topper sheets for example. It's very inspirational! It shows beautiful hand made picture of the card along with simple, easy instructions!
In this issue of Docrafts creativity, there's a lovely double page about card making templates. Which looks like a lot of fun indeed!
The magazine also includes 'Yummy Bunny' Easter treats, which have pictures along with simple instructions. Love these!!
This magazine includes so many creative, inspirational projects you can make from card making, to Easter treats, creative activities for kids to jewellery making! This magazine is beautifully illustrated.
There are so many other inspiring projects featured in this magazine. It truly is a beautiful magazine.
This magazine if priced at £4.99 which is worth it in my personal opinion because it's full of lovely ideas and this months magazine contained 3 cover gifts. On the last page of the magazine, it contains information about next months issue, which is available to purchase on 1st May.
The May issue contains three cover gifts such as A5 coloured paper pack, Caption wooden letters (19pcs) and Chalkboard speech bubble (4pcs) and of course, lots of inspirational projects!
The magazine is available to purchase in Creativity stores across the UK, you can find your local creative store on the
docrafts website
. (The website is very easy to use, I might add!)
You can also purchase it from any good supermarket news stand.
You can also follow docrafts on
Facebook
and
twitter
.
Sarah xXx
I received this magazine for the purpose of this review. All opinions are my own, honest, personal opinions!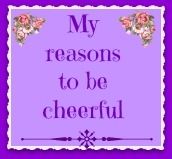 Phew! It's almost Easter. We are really looking forward to Easter in this house.
Here are my reasons to be cheerful this week:
1) Easter - Obviously! Haha. We've got an Easter egg hunt planned, the kids are ever so excited about it! I am lucky that we have a huge back garden to do the Easter egg hunt in. I've also got a couple of games planned.. egg and spoon race, who can throw the ball the furthest and so on. It'll be great fun.
2) The weather - I seriously can't believe how warm it's been. Did you know this time last year it was so cold it was almost snowing! This year it's the opposite (thank goodness) - so mild and warm. Yay! It makes all the difference when it's sunny. The kids can play outside and enjoy the sunshine and it puts me in a much brighter mood!We've been to the
park this week
and had a couple of lovely walks!
3) The weekend - I am really looking forward to the weekend! My brother, SIL and niece are visiting us again this weekend, I am really looking forward to it. :)
What are your reasons to be cheerful this week?
Sarah xXx
Wednesday, 16 April 2014
Wow. Hasn't the weather been amazing? (knocks on wood).
Yesterday my brother and sister in law popped 'round to ours with my niece! We haven't seen them for a couple of weeks so it was really nice to see them :)
We decided we'd go for a bit of a walk (a two hour walk!) while the weather was nice. It was really warm and sunny. We got an ice-cream and a nice cold drink.
We ended up at the park. Ellie and A (my niece) played on the park for a while. The boys wern't really interested in the park, they were more interested in playing football. Lots of there friends were at the park and joined in with a good ol'e game of football!
We had a nice walk home followed by a cold ice pole from the freezer! We were all so tired after our long walk and playtime at the park! It was a great day and we can't wait to spend more time outside in the sunshine! Infact, we've already been on another walk to town today and the kids have had fun playing in the garden on there bikes and what not! Such good fun. :D
I've even got a bit of a tan (only a bit though)
How have you been enjoying the weather lately?
Sarah xXx
This post is linked up with:
#LetKidsBekids
Loudandproud
Weekend bloghop
Wild bluebells and daffodils. Beautiful.
Linked up with Wordless Wednesday
Linked up with Mad mid week blog hop
Linked up with how does your garden grow?